What exactly is sustainabel furniture? As usual the Google answer doesn't go off mainstream. I found an article by treehugers which gives a hint of the bigger picture. Obviously their focus is mainly on wood, but it is interesting and it's copied in at the end of this post.
All of zo2's furniture design is
made to last
100% manufactured in Switzerland with socially engaged companies
it took us over a year to find the right people, who not only know their craft but are also run their « business » in a socially sustainable way
we really like to work with the blind people for the braiding of the ropes for the sitting parts. And you feel the difference!
we like to test our design, review it and improve it. We have done test with the prototypes for over a year and we'll give  you some impressions here:
Swiss winter is a good hard test. Not only for the cold but also for UV resitance.  My LC Lounge Chair is now the 3rd season on the terrace and it still looks beautifully.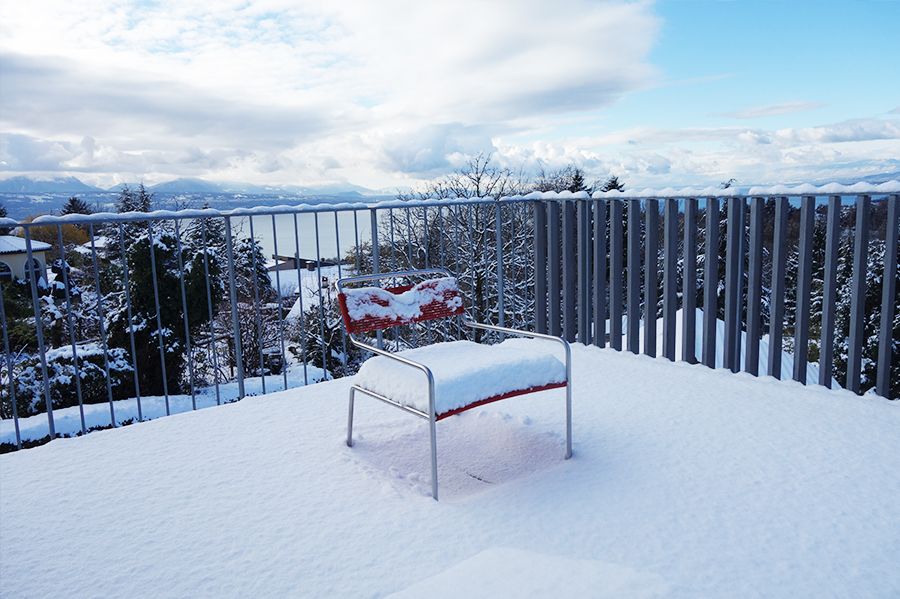 Materials in Sustainable Furniture
Sustainable furniture is made from materials that have certain characteristics. These materials may be recycled or re-purposed. Anything that is made from materials that had previously been used for something else and are then re-used in the making of new furniture. Sustainable furniture can also be made from material that is easily renewable. Bamboo grows easily, and can be replaced very quickly, so it can be used as a renewable resource. This is just one example. The use of safer materials also makes furniture sustainable. The use of finishes that do not off gas or are low VOC contributes to its safety in everyday use.
The LC Lounge Chair detail with melting snow: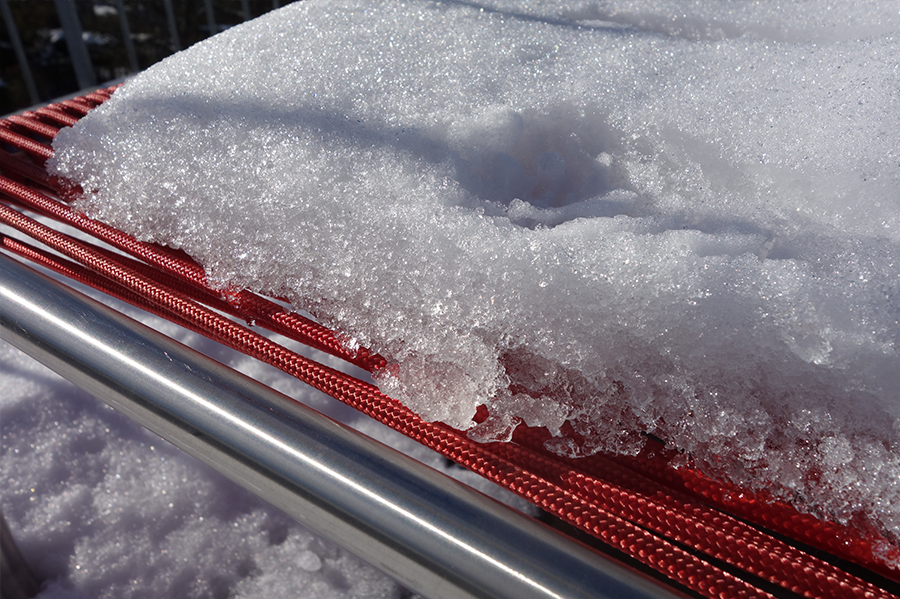 Sustainable Manufacturing Practices
Using sustainable materials is only part of producing sustainable furniture.
Responsible manufacturing practices matter just as much, and have a great impact on our planet. Manufacturing practices have to be safe for the environment, which means that manufacturers should check carbon emissions, and make sure that they do not pollute the environment. They should practice fair trade and not harm communities or destroy sensitive environments to gather material for their products.
The LC Lounge chair skiing ropes when it gets icy again. Our skiing rope is UV resitant. You can also use recyled ropes. Normally all mountain or sailing ropes are water resitant.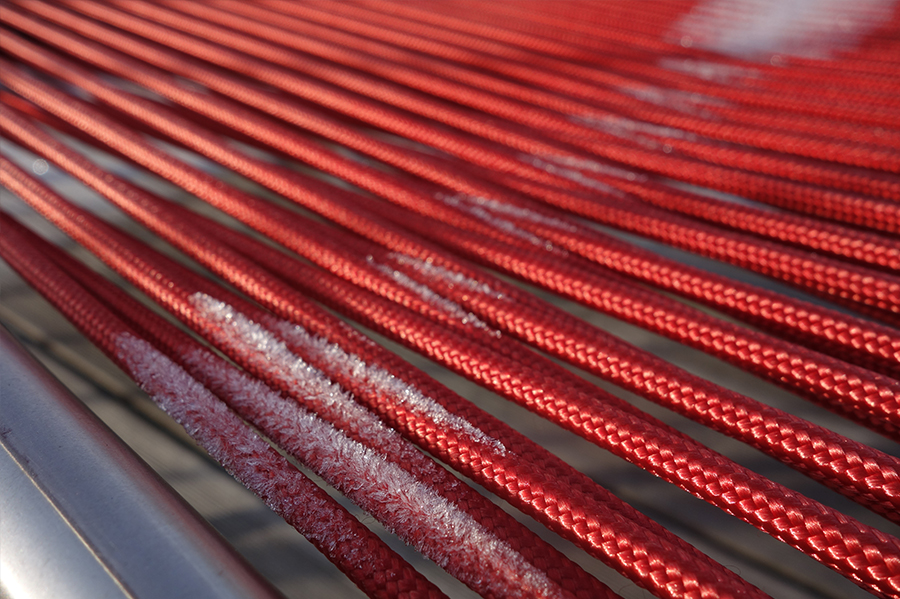 How Was it Transported?
Since transportation of finished products, or even raw materials for manufacturing also uses energy, responsibility in transporting is also part of producing a sustainable product.
If your furniture was imported from somewhere else,find out how it was done. Furniture that comes to you from anywhere else does that by using and expending energy. Look for companies that  are transporting their goods efficiently, and those that do not use excessive space and energy during transport.
The most energy efficient way is to buy locally produced furniture which has been constructed using only locally-sourced materials. This will have a reduced carbon footprint.
The LC Lounge Chair after a spring rain:

How Useful it is
The piece of sustainable furniture should also be useful for the buyer or user. That means it should be designed in such a way that it offers maximum functionality, comfort, and ease of use.It should also be durable, so that it does not need to be replaced quickly.
Any furniture that increases efficiency by providing greater utility for the user, such as multifunctional furniture is always preferable. It will take up less space and effectively solve the problem that it was meant to address. For instance, a sofa bed that is made to operate easily is a very useful piece of furniture.
The durability of the piece also matters because well made furniture will have a longer functional lifespan. That contributes to the health of the planet by not adding to the landfills
The LC Lounge Cahir after 3 years just looks as though it is new. And I know that in 20 years this won't change. I may need to change the ropes, may be by then I will have climbed the Matterhorn, then I will use those ropes and recycle them in memory of the climb. We'll see. Happy sustainable living!

Recyclable and disassemblable
Good eco-friendly furniture should lend itself to easy repair, disassemblage, and recycling. Products certified by MBDC's C2C (Cradle 2 Cradle) product regimen are a perfect example, like certified office chairs from Herman Miller and Steelcase. These products can be easily taken apart, sorted into their constituent parts, and recycled at the end of their useful lives. When buying furniture, stay away from « monstrous hybrids », pieces that are an inseparable amalgam of materials. If they can't be taken apart it's probably a sign that they can't be repaired very well either.
Look for furniture that's durable and fixable
One of the most important but often overlooked aspects of green products (and this definitely goes for furniture) is durability. If something is tough and/or can be readily repaired, this lessens the chance that it'll end up in the landfill, and could easily save you money in the long run, even if it's initially more expensive. Even recyclable materials if they break (and can't be fixed) require energy and other resources to reprocess and then replace. Durable goods that will last a long time can be passed on from person to person. Even if your style changes and that kitchen table isn't your thing anymore, a good strong table will almost always be appealing to someone else, while a broken (and unfixable) one probably won't. When it's time to part with your possessions, think of Craigslist, Freecycle, or eBay, and find it a new home.
Buy flexible and think small
Grandma's sofa was huge and heavy; it costs more to hire a truck or a mover than to buy a new one at IKEA. In these days when everyone is talking about living with less, think about smaller, lighter and folding furniture that you can put away when you don't need it. Dining room tables can have drop leaves so that you can fold them down when dining alone. Transformer furniture changes from a coffee table to a dining table when you need one.
Low-toxicity furniture
When you buy a piece of furniture, bring it home, and set it down in a room, it doesn't just sit there. No matter what it's made out of, chances are, it's offgassing (or releasing substances into the air). Almost everything offgasses, which isn't necessarily bad, but synthetic materials or those treated with synthetic substances can offgas chemicals which are toxic. Volatile organic compounds, or VOCs, are the most common family of chemicals that are offgassed and have been linked to birth defects, endocrine disruption, and cancer. Flame retardants and formaldehyde are common VOCs offgassed by furniture. Especially if your home or office is well-insulated (which it should be for energy purposes) toxins can't get out easily. In fact, studies have shown that air quality inside your house (or car) is often worse than outside. Everyone should be conscious of the kinds of chemicals they bring home, but especially if you have kids, pets, or other family members who are low to the ground and prone to licking things. There are some good ways to help maintain good indoor air quality when it comes to furniture choices. Greenguard is a certification which ensures furniture is low toxicity. Herman Miller, Haworth, Knoll, and Izzydesign all offer Greenguard certified furniture options. Also, look for furniture that is untreated or treated with natural substances, like natural wood finishes, or naturally tanned leather. Organic cotton is also less likely to be treated with toxic stuff. Another great way to dodge toxic chemicals is to buy furniture that is vintage or second-hand and has already done most of its offgassing (just make sure it doesn't carry anything worse, like lead paint). You can tell intuitively that new things offgas more actively-just think of that new car smell.
Avoid flame retardants
Flame retardants are powders, so they don't offgass like other chemicals. Instead, they fall out of upholstery and mix in with the dust around the house. The problem is that the bromine industry, which makes flame retardants, is huge so they want to keep their market going even though the risk of fire has drastically decreased across the US due to the decline in smokers. But flame retardants aren't actually that effective at slowing down fires – once the upholstery is lit, it burns just as fast and releases a host of toxic chemicals. When looking into new furniture, check with the manufacturer that there aren't any flame retardants. You could also avoid products with foam in favor of wool cotton or down, which generally don't have flame retardants added to them and which are less toxic when they burn.
Buy vintage
With all the slick, mod, « eco » brands jumping into the market it can be hard to keep in mind that pre-owned goods can be the most green purchase of all. Vintage and second-hand and furniture requires no additional resources to manufacture, is often locally sourced (cutting down on transportation), is pre-offgassed and eases the load on the landfill. Quality vintage furniture can also have excellent resale value (sometimes selling for the same price it was bought) which certainly can't be said for most new furniture, green or otherwise.
Buy local
Just like the food on the dinner plate, we might be amazed how many miles the constituent parts of a piece of furniture might have had to travel in order to reach us. If possible, source furniture close to home. This will support the local economy, small craftspeople, and decrease the environmental cost of shipping (not to mention the other kind of cost)