Vous êtes sur le point de vous lancez dans le projet de votre vie, la rénovation ou la construction de la maison de vos rêves. Construire peut s'avérer compliqué si l'on ne s'entoure pas de personnes compétentes.
L' architecte est un concepteur d'espace, un coordinateur de travaux et garantit le respect des budgets. Son rôle est de transformer vos souhaits et vos envies en une construction durable et correspondant à votre mode de vie.
Un accompagnement personnalisé
L'architecte est à votre écoute pour répondre à vos besoins et vos envies tout en prenant en compte la réglementation, la technique et le budget. Il conçoit les plans selon votre profil et vos attentes. Il vous conseille et répond à vos demandes.
Contrairement aux offres standardisées, faire appel à un architecte permet de disposer d'une maison marquée de votre empreinte en participant à la réalisation et à la création des plans ainsi qu'au processus de construction. Il est possible d'échelonner les travaux dans le temps ou d'effectuer certains travaux soi-même, tout est envisageable pour répondre à vos attentes!
Stimuler votre créativité
Dans un premier temps, faites vous rêver ! Imaginez les projets les plus fous qui vous donnent envie, élaborer des plans sur la comète pour le projet de vos rêves. Vous avez le droit à un projet qui vous ressemble et aussi la possibilité de laisser libre cours à votre imagination !
Parce que vous avez votre façon de vivre et vos goûts personnels… Le rôle de l'architecte est avant tout de vous écouter ; à partir de vos besoins, de vos goûts, de votre mode de vie, de l'évolution possible de votre famille, l'architecte vous aide à définir votre projet : disposition des lieux, utilisation judicieuse des surfaces, organisation des volumes intérieurs, aspect extérieur… L'architecte est là pour synthétiser vos idées.
Répondre aux normes
Toute nouvelle construction, modification de façade ou transformation majeure d'intérieur touchant à l'affectation des locaux ou modifiant un mur porteur nécessite les services d'un architecte.
L'architecte se charge du respect des différentes normes: thermiques, sismiques, réglementations… pour garantir la qualité et une construction aux normes.
---
Rôle de l'architecte
L'architecte répond aux attentes de chaque usager en veillant au respect de l'intérêt collectif. L'architecte est chargé par le client, appelé maître d'ouvrage, de concevoir le projet architectural. Le projet architectural définit l'implantation des bâtiments, leur composition, leur organisation et l'expression de leur volume ainsi que le choix des matériaux et des couleurs par des plans et des documents écrits. L'architecte coordonne l'ensemble des intervenants lors de l'étude et la réalisation du projet.
De par la formation qu'il a reçue, l'architecte a la capacité d'intervenir à tous les niveaux d'un projet, de la conception à la réalisation des travaux.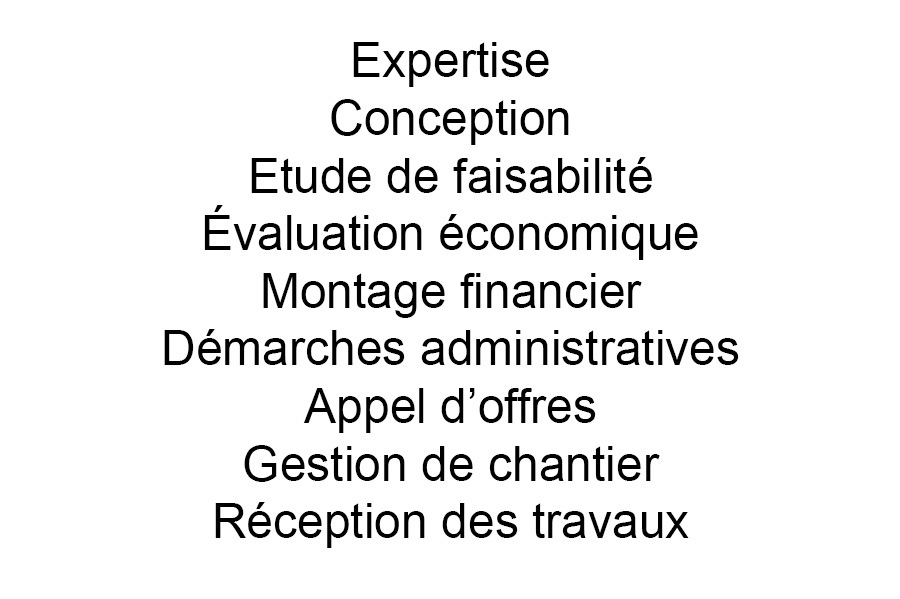 Le coût
Les honoraires d'architecte paraissent parfois à tort des dépenses superflues. Hors, chaque maison est un prototype, d'autant plus lorsqu'elle est personnalisée. Faire appel à un architecte, c'est le sur mesure à moindre coût.
Grâce à son indépendance financière vis à vis des artisans, l'architecte vous évite les marges lourdes des constructeurs. La mission de votre architecte est d'agir dans votre intérêt.
Vous rémunérez l'architecte, mais il vous fait faire des économies…
Le recours à l'architecte assure au particulier une mise en concurrence des entreprises, ce qui est un facteur de baisse des coûts à prendre en considération. En outre, la comptabilité des travaux s'opère au fur et à mesure de l'avancement du chantier.
Vous souhaitez avoir plus de détail concernant les phases de projet, consultez le guide: construire dans les règles de l'art
N'ayez crainte, venez nous rencontrer et discuter avec nous de vos rêves!
---
English version
You are about to embark on the project of your life, the renovation or construction of the house of your dreams. Building can be complicated if you don't surround yourself with competent people.
The architect is a space designer, a works coordinator and guarantees that budgets are respected. Its role is to transform your wishes and desires into a sustainable construction that corresponds to your lifestyle.
Personalised support
The architect is at your disposal to meet your needs and desires while taking into account regulations, technology and budget. He designs the plans according to your profile and expectations. He advises you and responds to your requests.
Unlike standard offers, using an architect allows you to have a house with your own footprint by participating in the design and creation of plans and the construction process. It is possible to stagger the work in time or to carry out some work yourself, everything is possible to meet your expectations!
Stimulate your creativity
First, make yourself dream! Imagine the craziest projects that make you want to, develop plans on the comet for the project of your dreams. You have the right to a project that suits you and also the possibility to let your imagination run free!
Because you have your own way of life and personal tastes… The role of the architect is above all to listen to you; based on your needs, your tastes, your lifestyle, the possible evolution of your family, the architect helps you to define your project: layout of the premises, judicious use of surfaces, organization of interior volumes, external appearance… The architect is there to synthesize your ideas.
Meeting standards
Any new construction, façade modification or major interior transformation affecting the allocation of premises or modifying a load-bearing wall requires the services of an architect.
The architect is responsible for compliance with the various standards: thermal, seismic, regulations… to guarantee quality and construction to standards.
Role of the architect
The architect meets the expectations of each user by ensuring that the collective interest is respected. The architect is commissioned by the client, called the project owner, to design the architectural project. The architectural project defines the layout of the buildings, their composition, organization and expression of their volume as well as the choice of materials and colours through plans and written documents. The architect coordinates all the parties involved during the study and implementation of the project.
Thanks to the training he has received, the architect has the ability to intervene at all levels of a project, from design to completion.
The cost
Architect fees sometimes appear to be unnecessary expenses. Outside, each house is a prototype, especially when it is personalized. Using an architect is tailor-made at a lower cost.
Thanks to his financial independence from the craftsmen, the architect avoids you the heavy margins of the builders. Your architect's mission is to act in your interest.
You pay the architect, but he saves you money…
The use of the architect ensures that private individuals can compete with other companies, which is a factor that reduces costs to be taken into account. In addition, the accounting for the work is carried out as the work progresses.
If you wish to have more details about the project phases, consult the guide: building according to the rules of the art

Don't be shy, say HI!