Profitez du printemps !
Après un hiver froid, quoi de plus agréable que de profiter des premières fleurs et des rayons du soleil printanier dans son jardin ou sur son balcon dans un rocking lounge chair….seul ou à deux.
Le plus important est la qualité du bois. Le bois est coupé localement dans les Alpes suisses au clair de lune. Ce n'est pas une blague !
La lune a longtemps été associée à la magie, au folklore, aux anciens rituels et aux superstitions. L'observation de ses cycles est une tradition aussi ancienne que l'homme lui-même. Tous les comportements ont été imputés à la lune et à la façon dont elle suscite nos passions et nos émotions. On pensait autrefois que le fait de dormir au clair de lune provoquait la folie, d'où le mot « lunatique », dérivé du mot « luna » (ou lune) et qui se traduit littéralement par « malade de la lune ». Comme une boule de cristal colossale, la lune a été consultée pour tout, du meilleur moment pour concevoir un enfant, au moment idéal pour couper les cors des pieds afin qu'ils ne repoussent pas, à la période optimale pour castrer le bétail afin qu'il y ait moins de saignement, au meilleur moment pour récolter du bois afin de fabriquer une guitare qui produira les notes les plus chaudes et les plus pleines. Vous avez bien entendu.
Le bois qui est abattu conformément au cycle lunaire est appelé « bois de la pleine lune ». Selon certaines informations, le légendaire luthier Antonio Stradivari n'utilisait que du bois lunaire pour les instruments de Stradivarius, les violons les plus collectionnés au monde. Il existe des magasins de guitares au cœur de l'Europe qui sont spécialisés dans le bois de pleine lune. Si vous n'en avez pas encore entendu parler, il y a de fortes chances que vous en entendiez parler. Il y a des guitares vendues aujourd'hui qui se vantent d'être fabriquées à partir de bois d'épicéa « récolté sur la lune ». Ce que nous appelons « mojo » pourrait très bien être l'œuvre de la lune.
L'attraction gravitationnelle de la lune tire sur tout ce qui est liquide sur la planète, y compris les marées océaniques, la sève des plantes et des arbres, et le corps humain lui-même, qui contient entre 50 et 75% d'eau. Les rythmes lunaires, ainsi que les cycles des saisons, sont cités dans les écrits historiques et les archives comme ayant une influence sur la croissance, les structures, les caractéristiques et les propriétés des plantes. L'un des premiers exemples de cette influence nous vient de Pline l'Ancien, le naturaliste romain du premier siècle, qui a proposé aux agriculteurs des suggestions sur le meilleur moment pour couper les plantes en fonction des différentes phases de la lune. Pline leur conseillait de cueillir leurs fruits juste avant ou à la pleine lune s'ils voulaient qu'ils pèsent plus et soient plus rentables à vendre sur le marché. Mais pour l'utilisation dans le propre garde-manger de l'agriculteur, il a recommandé de cueillir les fruits pendant la nouvelle lune, quand ils contiennent moins d'eau et ont donc une durée de conservation plus longue.
Nous insistons pour couper du bois pendant la lune croissante afin de garantir une teneur en humidité élevée, car la sève est aspirée dans le tronc de l'arbre, ce qui rend le bois plus facile à étuver et à plier. Et c'est ainsi que sont créées nos superbes courbes.
Quelques notes sur le vieillissement :
Sur la photo ci-dessous à gauche se trouve un nouveau rocking chair, à droite un rocking chair qui est dans le jardin depuis 2 ans.
Le bois devient naturellement gris. Si vous voulez garder la couleur, il faut du vernis. Nous préférons l'aspect naturel et aussi le vieillissement naturel.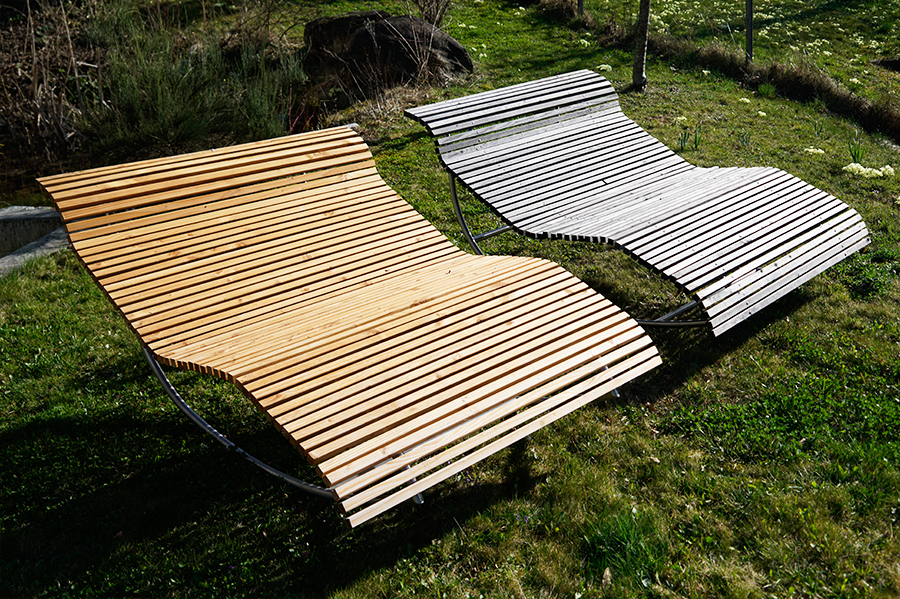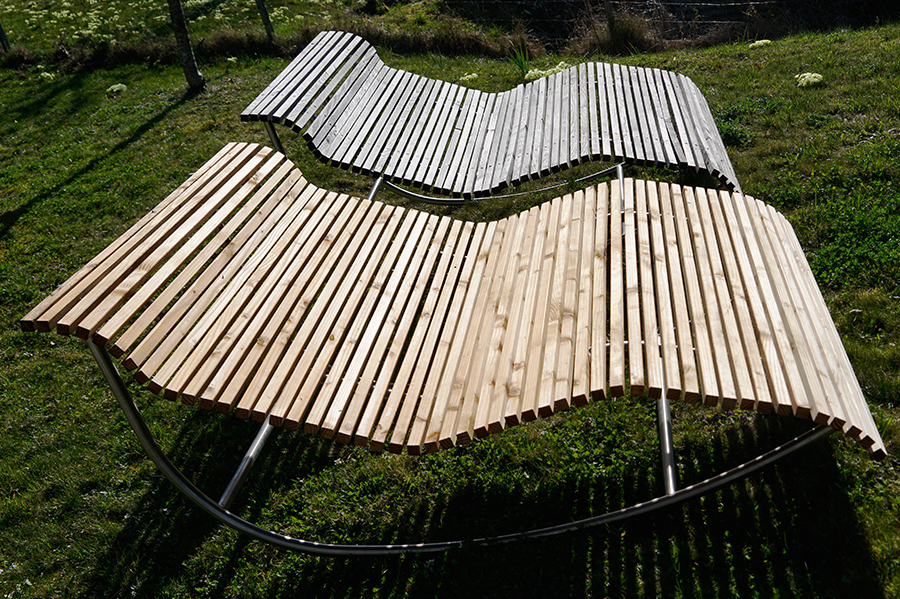 Consultez notre boutique pour plus d'informations:
---
Vous pouvez également consultez nos autres furnitures sur le shop et notamment la lounge chair qui est adaptée pour l'intérieur mais aussi en extérieur.
---
English version
Enjoy springtime!
After a cold winter, what could be nicer than enjoying the frist flowers and spring sun rays in your garden or balcony in a rocking lounge….alone or for two.
We let the wood cut locally in the Swiss Alps at moonlight. This isn't a joke!
The moon has long been associated with magic, folklore, ancient rituals and superstitions. Observing its cycles is a tradition as old as man himself. All manner of behavior has been blamed on the moon and the way it stirs up our passions and emotions. It was once thought that sleeping in direct moonlight would cause a person to go mad, hence the word « lunatic, » which is derived from the word « luna » (or moon) and literally translates as « moon-sick. » Like a colossal crystal ball, the moon has been consulted for everything from the best time to conceive a child, to the ideal time to cut corns from the feet so they don't grow back, to the optimal period for castrating livestock so there's less bleeding, to when best to harvest wood to craft a guitar that will yield the warmest, fullest notes. You heard right. That indefinable thing we call « mojo » may very well be the moon's doing.
Wood that is felled in accordance with the lunar cycle is referred to as « full-moon wood. » There are reports that legendary violin maker Antonio Stradivari used only moon wood for Stradivarius instruments, violins that are the most collectible in the world. There are guitar shops in the heart of Europe that specialize in full-moon wood. If you haven't yet heard of it, chances are you will. There are guitars being sold today that boast « moon harvested spruce » as a selling point. indefinable thing we call « mojo » may very well be the moon's doing.
The gravitational pull of the moon tugs at everything liquid on the planet, including ocean tides, the sap in plants and trees, and the human body itself, which is between 50-75% water. Lunar rhythms, as well as the cycles of the seasons, are cited in historical writings and record keeping as having an influence on the growth, structures, characteristics, and properties of plants. One of the earliest examples of this comes from Pliny the Elder, the first-century Roman naturalist, who offered farmers suggestions about when best to cut plants based on the different phases of the moon. Pliny advised them to pick their fruit just before or at the full moon if they wanted it to weigh more and be more profitable to sell in the marketplace. But for use in the farmer's own pantry, he recommended picking fruit during the new moon when it would contain less water and therefore have a longer shelf life.
We insist on cutting wood during the growing moon to ensure that the moisture content is high since the sap is being drawn up into the trunk of the tree, which makes wood easier to steam and bend. And this is how our awesome curves are created. Enjoy springtime!
Some notes on aging:
In the photo above left is a new rocking chair, in the right is one which has been out in the garden for 2 years.
Wood naturally turns grey. If you want to keep the color, varnish is needed. We prefer the natural look and also the natural ageing.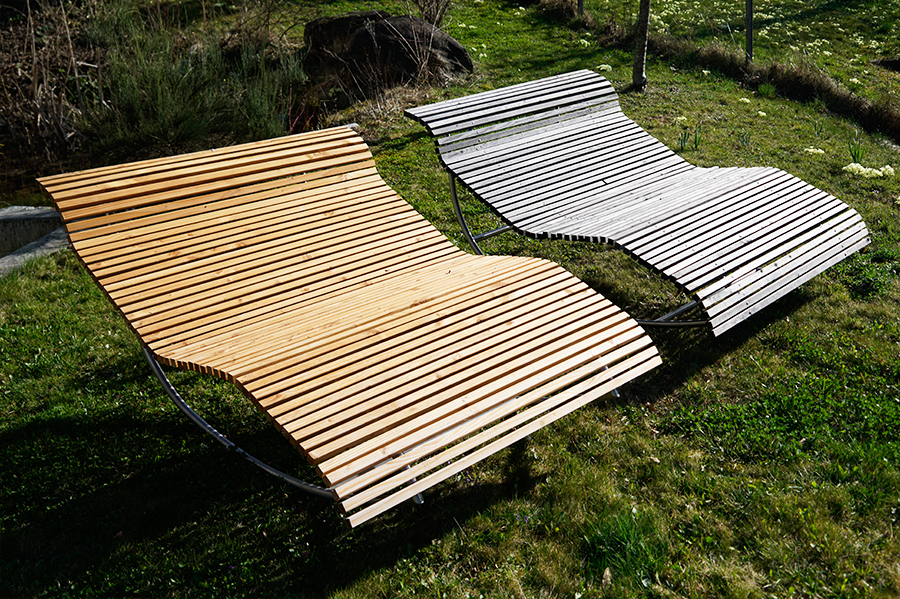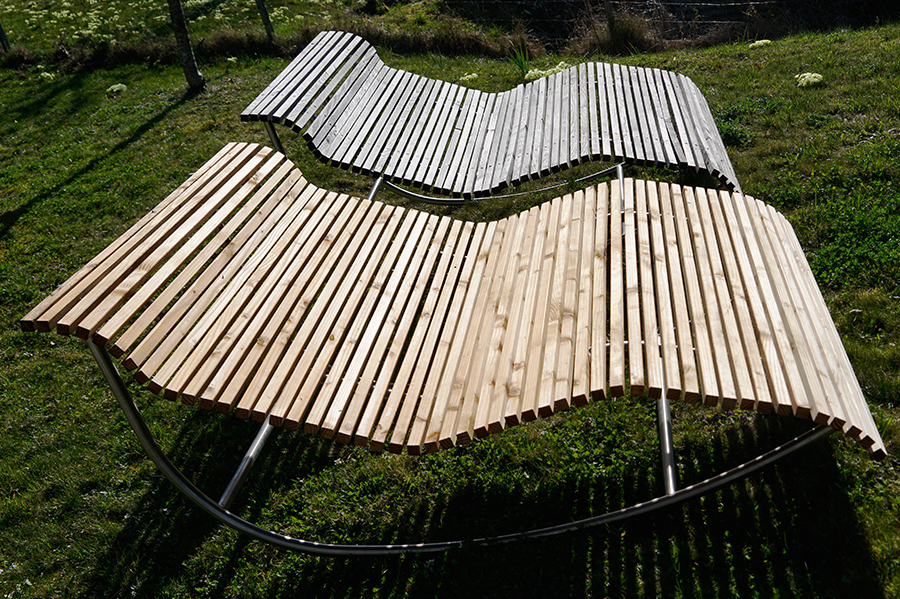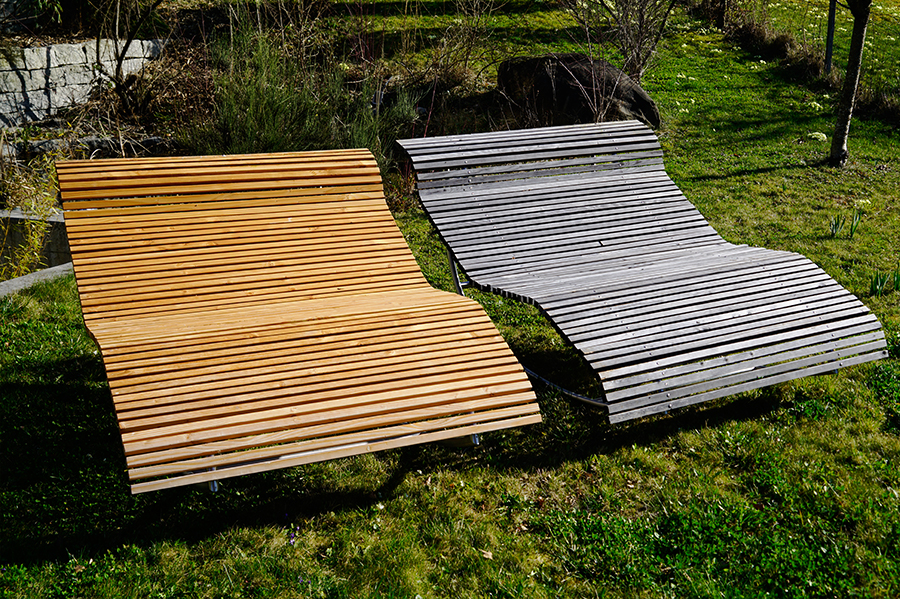 Check our shop for more info and prices: